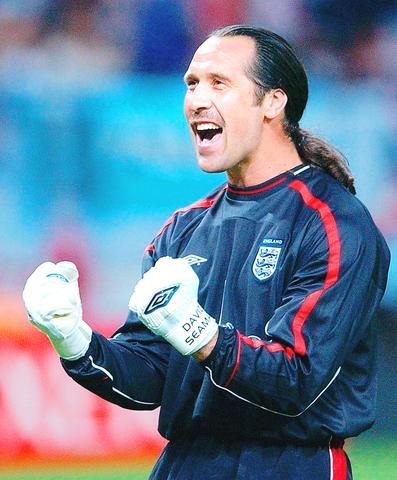 Name: David Andrew Seaman MBE
Club Appearances: 954 (563 for Arsenal)
National Appearances: 75 (England)
Height: 6ft 4in
Date of Birth: 19/09/1963, Rotheram, England
Biography
David Seaman finished his career as the second most capped English goalkeeper (behind Peter Shilton); as one of the most decorated as a club player with Arsenal; and, notably, with an MBE from the Queen, for his services to English sport.
'Safe Hands'
Seaman grew to become an extremely strong and capable goalkeeper, who was feared and respected by many in the tough climate of the English top division of the late 1980s and throughout the 1990s. His natural ball handling skill and assured nature earned him the nickname 'safe hands' from his Arsenal and England teammates.
This would also later become the title of Seaman's autobiography.
From Humble Beginnings
You might think, then, that Seaman had always been tipped for the top from the start of his footballing career. Not so. Despite making it into Leeds United – Seaman's boyhood heroes – he was later sold by the team and forced to move to play Fourth Division football with Peterborough United in 1982.
Though he may have been forgiven for doubting his footballing future, David Seaman actually improved dramatically at football's grass-root.
Given a weekly start in a hard, immensely physical league, Seaman built up his strength, and his ability quickly, and became noted for his bravery and consistency. This was noticed. Just two short years after signing for Peterborough for £4,000, Seaman was transferred to Second Division Birmingham City for a fee of £100,000 in 1984 (not an insubstantial fee for a goalkeeper then).
Seaman in the Top Flight
That very season, Seaman tasted success when Birmingham were promoted to the top flight First Division of English Football.
Unfortunately, they were to be relegated in their maiden season, though Seaman was not to follow them back down, as Queens Park Rangers (QPR) came in for him with an offer of £225,000, which was accepted in August 1986.
For some goalkeepers, the prospect of playing on an artificial astro-turf pitch (which QPR had at the time) every other week would seem, at best, tiresome. Again, Seaman showed his fearless nature as his performances were consistently good enough to earn him his first England call up in 1988.
After this, Seaman was beginning to attract the attention of major clubs both at home and abroad.
Seaman joins the Big Guns
It had become obvious to all in football that David Seaman was the brightest goalkeeping prospect in English football, possessing excellent physical attributes – being 6ft4in and sturdily set – as well as incredible ability and, a vitally important feature in any 'keeper, a level of consistency that few could match.
As a result, it is unsurprising that, in the summer of 1990, Seaman was signed by George Graham's Arsenal for a then record transfer fee of £1,400,000 (£1.4 million).
Seaman actually headed to Italy for the 1990 World Cup as England's third choice keeper behind Shilton and Woods, but was forced to return home with injury. He was to get his chance in later years, though.
Watertight Rearguard
In that first season with Arsenal, David Seaman would play every game as the linchpin of Arsenal's watertight rearguard. Amazingly,having played in every one of the 38 matches that season, Seaman conceded just 18 goals, as Arsenal reclaimed their league title.
The season after, in 1993, Arsenal would win both the League Cup and the FA Cup. This gained them entry into the (now defunct) European Cup Winners Cup in 1994, which they duly won too.
National Call-Up
Also in 1994 after England's failure to qualify for the World Cup, and with the incumbant England manager, Terry Venables, a big fan of Seaman, he was quickly installed as England's first choice goalkeeper, a position he would retain for nearly a decade.
King of Penalty Saves
In 1995, as Arsenal attempted to retain their Cup Winners Cup, Seaman earned himself world-wide renown as a penalty saving expert when he helped his team through in the semi-final shootout against Sampdoria. However, upon making it to the last minute of extra time in the final, Seaman made a critical error, uncharacteristically leaving too much space between himself and his goal-line, allowing Nayim of Real Zaragoza to lob the ball over him and claim victory.
Seaman was understandably upset and widely criticised for that Nayim goal. Perhaps his mind had been on the forthcoming penalty shootout (there were only seconds remaining when the goal went in)?
Whatever the reason, Seaman had, as a result, failed to provide us with another example of his penalty shootout prowess. The year after, however, for England, he would get the opportunity to reaffirm this notion.
Euro '96
David Seaman had perhaps his finest tournament in an England shirt in Venables' Euro '96 England squad. First, in a group game against Scotland, with England 1-0 up, Seaman saved what can only be described as a well hit penalty from Gary McAllister.
Then, in the quarter final, Seaman produced another stunning save in the penalty shootout against Nadal, of Spain, to send England into the semi – he picked his moment well, saving the final penalty:
Unfortunately, he couldn't repeat the feat against Germany in the Semi-Final, as England went out in another shootout. However, Seaman was named in the Team of the Tournament, and was also named Phillips Player of the Tournament – incredible for a goalkeeper – for all of his heroics.
Another Double
Two years later, in 1998, following the arrival of the forward thinking new manager of Arsenal, Arsene Wenger, Seaman would play a major role in their League and FA Cup double.
Seaman would also play in the World Cup of 1998, only to go out in yet another penalty shootout against Argentina (after Beckham was ejected from the field of play).
Seaman would go one better than his previous 1992 best when, in 1998-99 he played every match (out of 38) in the league, and conceded just 17 goals – a club record. However, Arsenal did not win either the league or any cup in that season.
In 2002, though, they would repeat that feat, giving Seaman another taste of the major double of English football, one of only a small handful of players who have.
Another Vital Mistake
As with all goalkeepers, mistakes are costly. With Seaman, though, they were also rare. However, that same year as he won his second double – 2002 – Seaman played in the World Cup in Japan and Korea and would make another error of judgment in a major knockout tournment. With theSemi-Final scores locked at 1-1 against Brazil, Seaman was lobbed by a Ronaldinho free kick from an innoccuous looking position. He would later admit that he was trying to get out to take any cross that was delivered, and failed to account for a shot.
Whether it was a shot or a miss-hit cross is debatable, however, Seaman classily blamed himself publicly, while many questioned whether, at 38 he might be too old to continue as first choice england 'keeper.
These questions would resurface in a Euro 2004 qualifier when he was beaten at a corner against lowly Macedonia. This would be his last game for England.
Despite the ignominy of its ending, Seaman's England career was extremely long and he played consistently to a very high standard. In 75 appearances, to make two errors is forgivable, it is just unfortunate that they seemed to come at critical moments. However, it is almost certain that England's success would have been further limited with a lesser man in goal – it is unfortunate for David Seaman that his outfield teammates often underachieved, or he may well have won a World or European medal with his country.
David Seaman also collected trophies with his clubs, winning the following:
English First Division / Premier League – 1991, 1998, 2002 (all Arsenal)
FA Cup – 1993, 1998, 2002, 2003 (all Arsenal)
League Cup – 1993
European Cup Winners Cup – 1994